Welcome to the JANE KAHAN FOLIO
Magical Images for Children and Wise Adults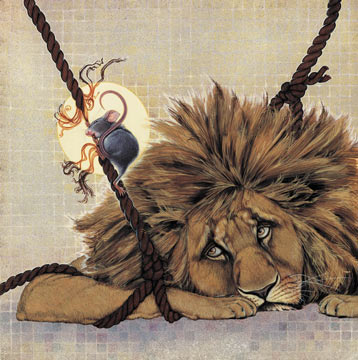 Folio, the publishing arm of the Jane Kahan Gallery, specializes in the magical images of Arlene Graston, a contemporary artist who brings back the noble tradition of the finely rendered illustration. In the tradition of Maxfield Parrish, Jessie Willcox Smith and the Brandywine School of artists, Arlene's work transports the viewer into her transcendent inner world and lifts the spirit.
Arlene, of course, is deeply aware of the tragic in the human existence and for this reason feels her art is an opportunity to keep reminding us all that there is much, much more to life, and helps us look there.
With these exquisite prints, created with cutting edge fine art printing processes, she has produced four inspired series, enchanting each one with her unique optimism and insight.  Arlene has recently also decided to make her originals available for sale for the first time.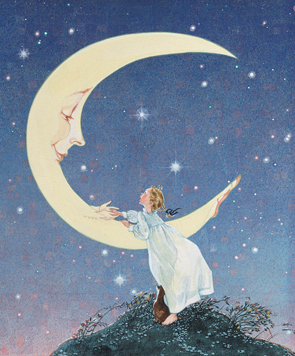 In her series, Promises, Arlene presents four healing images of spirituality and light. The Aesop Series brings her fresh, optimistic approach to the classic Aesop's Fables.  The Moon Series and the Dream Weavers reveal the magic and spirituality in moons, flowers, butterflies and children. There are also signed copies and exquisite images available from Arlene's book, In Every Moon There Is A Face, winner of Foreword Magazine's Gold Medal for Best Children's Picture Book of the Year and a finalist for the Independent Publisher Book Awards.  Arlene's newest series, One Kiss, is her most magical yet.
Whether you're interested in a unique painting, a signed digital print or a fine art giclee, we have something to suit your taste and your budget.  We have just made available a more affordable, open edition of Mother Moon (illustrated left) in addition to the giclee.  Click here for details.
Arlene Graston's art is timeless and fills a need today. It is ideal for the rooms of little children and the studies of wise adults. We are proud to bring these, her first series, to publication and invite you to share the beauty, the artistry, and the wonder of her work and her world.
Visit Arlene's website at arlenegraston.com
Jane Kahan, Publisher