SANDORFI at Jane Kahan Gallery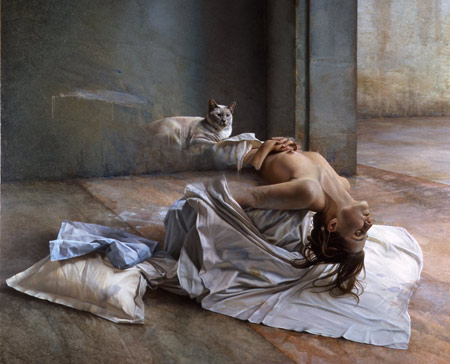 Jane Kahan Gallery has a large selection of paintings by the renown realist surrealist painter, Istvan Sandorfi.
Sandorfi was born in 1948 in Budapest, Hungary. Since the age of ten he lived in Paris, where he studied at the Ecole des Beaux-Arts and the Ecole des Arts Décoratifs. Sandorfi died in December, 2007.
Sandorfi's painting style, which blends a meticulous realistic technique with elements of surrealism, has been featured for the past three decades in important European galleries including Isy Brachot. His provocative draped figures and still-lifes appear in important private collections and museums on several continents, notably Centre Georges Pompidou, Musee de la Ville de Paris, Kunsthalle in Nuremberg, and the Taiwan Museum of Art, among others. A show at the Arnot Museum in upstate New York featured two of his recent paintings. Art Fairs at which his works have been exhibited include FIAC, Basel, Ghent, Art Miami, ArtFair Seattle, and New York's International 20th Century Arts Fair.
View Sandorfi Exhibition History
Friends of Sandorfi Artworks (FOSAW) is one of the first Internet website developed jointly by art collectors and lovers of Contemporary Art. Located both in North America and Europe, its goal is to support the artistic work of Istvan Sandorfi. We recommend this site to everyone interested in the work of this artist.
SANDORFI Publications
The deluxe Sandorfi book is limited to 200 copies.  It is the same volume as the standard version, however it is cased, signed by the artist, and includes a photo-offset lithograph also signed by Sandorfi and numbered from a limited edition of 200.
Order from our secure shopping cart. Sales tax may apply. Domestic shipping charges are $25 per book – we ship by Fedex. If this won't work for you or if you are outside the US, please email or call us. First class postage and sales tax for the catalogue are included in the price.
Click on Thumbnails to view larger images and pages from each publication.